We're all familiar with the concept of a job search page. A website where you can post your resume and send out emails to prospective employers. These have replaced the more traditional job-hunting techniques involving much legwork. Are job search pages similar to job boards? Well, not exactly. A 'job board' is more niche-focused. An example is Upwork for freelancers or QuirkyCoders for the tech community.
Now that we've cleared that up, here is a 5-step guideline for creating your job board.
1. Pick a Niche
The first step toward building a job board is settling on a niche. This involves extensive research on under-served sectors. Unlike job search engines, you'll focus on a specific niche, meaning standing out is key for your website to attract recruiters and job seekers alike.
Next, you should brainstorm ways to increase your site's visitors. You may include a blog with optimized articles that improve the site's ranking on search engines.
2. Choose a Name and Hosting Services
Once you have settled on a site niche, pick a domain name that clearly describes its goal. If the intention is to connect programmers to prospective employers, the domain name should be something tech enthusiasts can relate with.
Come up with a list of favorable names and conduct a web search to find out if they're available. After settling on a name, register it and find a hosting provider for your site.
While hosting is relatively cheap, you must settle on a package that comes with 24/7 support and large dedicated space.
3. Building Your Site
After paying for your domain name and hosting services, the next step is setting up the website. This involves choosing a Content Management System (CMS) that reduces the website building cost to almost nil.
I would recommend WordPress if you have little or no programming experience. WordPress offers a high degree of customization using themes and plugins so you can alter the front end of your website to your liking.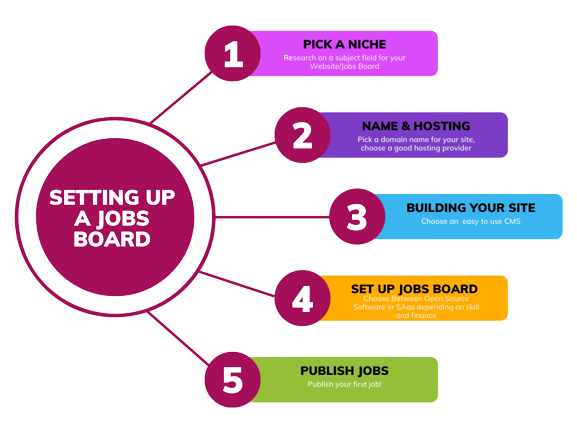 4. Setting Up a Job Boards Software Provider
You can choose from several different job board software options, so it's important to do your research before making a decision. There are several key features that you should consider when selecting a job board solution:
Responsiveness – How fast does the site load on your computer? How quickly does it respond to user interactions and updates? This is important because users will likely leave and never return if you have an outdated or otherwise slow website.
Ease of use – Is the interface intuitive enough for potential applicants and recruiters? If someone is unsure about how to use your site or what they should be looking for when searching for jobs in their industry, then chances are high that they'll abandon their efforts quickly (and possibly never come back)
Open-Source Job Board Software
This is considered the more affordable option and is easier to set up if you have no programming experience. However, this may depend on your choice of CMS as some do not support either job boards or plugins.
If you settled on WordPress, setting up a job board plug is relatively simple and comes with pre-installed features such as a job search bar and a file upload section where applicants will drop their resumes.
Despite the relatively easy setup, open-source job software may require maintenance and debugging, so have a techie on speed dial just in case!
Software As a Service
Using SAas reduces the hustle of constant maintenance required by open-source software. While it is slightly more expensive, it frees you up, letting you work on getting more job listings and visitors to your site.
Search for a reliable SAaS provider and get a package with mobile responsiveness and full-time support.
5. Publish Job Listings
You're almost done with setting up a jobs board. It's time to publish your first job listing! You'll need to do a lot of networking to kickstart your site.
At first, you may be forced to select relevant jobs from job search engines so that you don't start with a blank jobs board.
Reach out to employers in your particular niche and get them to post vacancies on your job board. You can do this through sites such as LinkedIn or social media. You'll also need to advertise your site to job seekers aggressively.
Now that you know the basics of creating a job board, it's time to start! While getting a techie to help you build yours may seem like a hustle, placing a job vacancy on our site will get you one in no time. You know what to do!